| | | | | | Easter | | |
Easter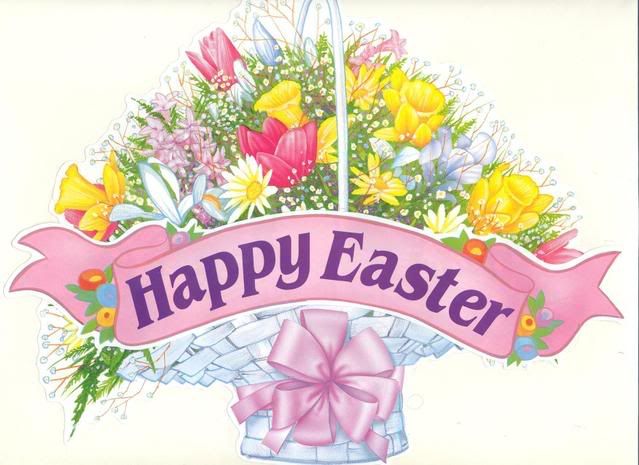 Easter, also called Pascha, is the feast of Christ's resurrection from the dead. It is celebrated on the Sunday following Holy Week. Easter is also a 50-day season, often called Eastertide. In 2010, in the Western Calendar, Easter falls on April 4 (dates in other years).
Basic Facts About Easter
: White
Feast
: Varies; follows Holy Week and Lent
: Fifty Days; Easter Sunday up to Pentecost, inclusive
: The Resurrection of Christ
: Pascha (Easter is the Anglo-Saxon name)
: Matthew 28, Mark 16, Luke 24, John 20
History
As mentioned above, in the ancient Church the feast of Christ's resurrection was the pinnacle of the Christian year. Following a three year process of training and education, converts were baptized and received their first communion at Easter. Saturday night (Holy Saturday) began with candlelight, and anticipated the return of Jesus Christ. As dawn came, Christians joyfully celebrated Christ's resurrection and victory over evil.
Easter was not entirely without controversy in the early Church. Different Church regions were celebrating Easter at different times, and all claimed Apostolic authority. This controversy is called the Quartodeciman (Latin for "fourteenism") controversy. In Asia Minor, many churches, including the church at Smyrna under the pastoral care of St. Polycarp, were celebrating Easter on the 14th of Nisan, following Jewish Passover customs. However, Church historian Eusebius tells us that the Church in Rome and most other Catholic dioceses always celebrated Easter on a Sunday. Both customs may have derived from Apostolic authority, but by the time of Origen (230 AD), the numbers of Quartodecimans were few. Also, differences arose between the Churches of Antioch and Alexandria as to the computation of the Paschal Moon. The Council of Nicaea settled the date of Easter (for the time being), in favor of the Alexandrians, putting Easter on the Sunday after the vernal equinox. However, as discussed above, Eastern Orthodox and Western/Eastern Catholic Easter falls on different dates because of differing calendars.
The English word for the feast of the resurrection, Easter, differs from the feast's name in other regions. In other regions the term is "Pascha," which is derived from the word for "Passover." The word "Easter" might come from an Anglo-Saxon spring goddess. This is probably because the festival of Easter overlapped some pagan holiday in ancient England. While some have used this fact to say celebrating Easter is pagan, the fact is that only the name comes from a pagan source, probably stemming from popular usage (see FAQ below).
Today Easter is celebrated in a variety of ways. Usually (in liturgical Churches) Easter follows a week of busy Holy Week services (Good Friday, Maundy Thursday, etc). Often the first service of Easter is the Great Vigil. Many times the service is shortened from the earlier all-night celebrations. Some modern ones go from 10PM-1AM, with Eucharist occurring at 12:00AM or so. Unfortunately, in many churches the festival of the resurrection is simply another day of the year, while to the early Christians, it was the most important day.
Easter in England
Easter it is a time for the giving and receiving of presents which traditionally take the form of an Easter egg and hot cross buns. The Easter egg is by far the most popular emblem of Easter, but fluffy little chicks, baby rabbits and spring time flowers like daffodils, dangling catkins and the arum lily are also used to signify the Nature's awakening.
Nowadays Easter eggs are usually made of chocolate or marzipan or sugar. True Easter eggs are hard-boiled, dyed in bright colours, and sometimes elaborately decorated. Colouring and decorating the festival eggs seems to have been customary since time immemorial They can be dipped into a prepared dye or, more usually, boiled in it, or they may be boiled inside a covering of onion peel Natural dyes are often used for coloring today. They are obtained from flowers, leaves, mosses, bark, and wood-chips.
Egg-rolling is a traditional Easter pastime which still flourishes in Britain. It takes place on Easter Sunday or Monday, and consists of rolling coloured, hard-boiled eggs down a slope until they are cracked and broken after which they are eaten by their owners. In some districts this is a competitive game. But originally egg-rolling provided an opportunity for divination. Each player marked his or her egg with an identifying sign and then watched to see how it sped down the slope. If it reached the bottom unscathed, the owner could expect good luck in the future, but if it was broken, unfortune would follow before the year was out, Eating hot cross buns at breakfast on Good Friday morning is a custom which is also flourishing in most English households. Formerly, these round, cakes marked with a cross, eaten hot, were made by housewives who rose at dawn; for the purpose, or by local bakers who worked through the night to have them ready for delivery to their customers in time for breakfast. There is an old belief that the true Good Friday bun — that is, one made on the anniversary itself — never goes moldy, if kept in a dry place. It was once also supposed to have curative powers, especially for ailments like dysentery, diarrhea, whooping cough, and the complaint known as "summer sickness". Within living memory, it was still quite usual in country districts for a few buns to be hung from the kitchen ceiling until, they are needed. When illness came the bun was finely grated and mixed with milk or water, to make a medicine, which the patient drank.
Easter Symbols
Easter Bunny


The Bible makes no mention of a long-eared, short-tailed creature who delivers decorated eggs to well-behaved children on Easter Sunday; nevertheless, the Easter bunny has become a prominent symbol of Christianity's most important holiday. The exact origins of this mythical mammal are unclear, but rabbits, known to be prolific procreators, are an ancient symbol of fertility and new life. According to some sources, the Easter bunny first arrived in America in the 1700s with German immigrants who settled in Pennsylvania and transported their tradition of an egg-laying hare called "Osterhase" or "Oschter Haws." Their children made nests in which this creature could lay its colored eggs. Eventually, the custom spread across the U.S. and the fabled rabbit's Easter morning deliveries expanded to include chocolate and other types of candy and gifts, while decorated baskets replaced nests. Additionally, children often left out carrots for the bunny in case he got hungry from all his hopping.

Easter Eggs
Easter is a religious holiday, but some of its customs, such as Easter eggs, are likely linked to pagan traditions. The egg, an ancient symbol of new life, has been associated with pagan festivals celebrating spring. From a Christian perspective, Easter eggs are said to represent Jesus' emergence from the tomb and resurrection. Decorating eggs for Easter is a tradition that dates back to at least the 13th century, according to some sources. One explanation for this custom is that eggs were formerly a forbidden food during the Lenten season, so people would paint and decorate them to mark the end of the period of penance and fasting, then eat them on Easter as a celebration.


Easter egg hunts and egg rolling are two popular egg-related traditions. In the U.S., the White House Easter Egg Roll, a race in which children push decorated, hard-boiled eggs across the White House lawn, is an annual event held the Monday after Easter. The first official White House egg roll occurred in 1878, when Rutherford B. Hayes was president. The event has no religious significance, although some people have considered egg rolling symbolic of the stone blocking Jesus' tomb being rolled away, leading to his resurrection.

Easter Candy
Easter is the second best-selling candy holiday in America, after Halloween. Among the most popular sweet treats associated with this day are chocolate eggs, which date back to early 19th century Europe. Eggs have long been associated with Easter as a symbol of new life and Jesus' resurrection. Another egg-shaped candy, the jelly bean, became associated with Easter in the 1930s (although the jelly bean's origins reportedly date all the way back to a Biblical-era concoction called a Turkish Delight). According to the National Confectioners Association, over 16 billion jelly beans are made in the U.S. each year for Easter, enough to fill a giant egg measuring 89 feet high and 60 feet wide. For the past decade, the top-selling non-chocolate Easter candy has been the marshmallow Peep, a sugary, pastel-colored confection. Bethlehem, Pennsylvania-based candy manufacturer Just Born (founded by Russian immigrant Sam Born in 1923) began selling Peeps in the 1950s. The original Peeps were handmade, marshmallow-flavored yellow chicks, but other shapes and flavors were later introduced, including chocolate mousse bunnies.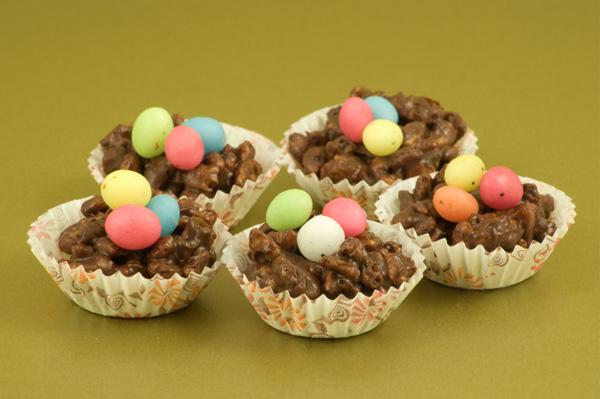 Easter Parade
In New York City, the Easter Parade tradition dates back to the mid-1800s, when the upper crust of society would attend Easter services at various Fifth Avenue churches then stroll outside afterward, showing off their new spring outfits and hats. Average citizens started showing up along Fifth Avenue to check out the action. The tradition reached its peak by the mid-20th century, and in 1948, the popular film Easter Parade was released, starring Fred Astaire and Judy Garland and featuring the music of Irving Berlin. The title song includes the lyrics: "In your Easter bonnet, with all the frills upon it/You'll be the grandest lady in the Easter parade."


The Easter Parade tradition lives on in Manhattan, with Fifth Avenue from 49th Street to 57th Street being shut down during the day to traffic. Participants often sport elaborately decorated bonnets and hats. The event has no religious significance, but sources note that Easter processions have been a part of Christianity since its earliest days. Today, other cities across America also have their own parades.
Easter in Russia
Light Christ's Revival has come to Russia - the most important orthodox holiday. This day special and familiar to us since the childhood. We learn it on brightly painted chicken, on is tasty to the smelling Easter cakes covered with a multi-colored crumb on white glaze and on special joyful persons of people, coming back of a temple. Orthodox such holiday consider as the most important thing and name a holiday of holidays -- Easter. Orthodox Easter in Russia is marked on the first Sunday after a spring equinox and a March full moon. Easter still name a life holiday, and even inveterate atheists are reserved by an onions peel for a paint of eggs and with pleasure knead celebratory Easter cakes. Easter -- a holiday, drawing the beauty and improbable atmosphere of all: big and small, believing and doubting. A church celebration of the most important holiday of the orthodox people really grandiosely. And preparation for celebrating begins beforehand. On Saturday believers bear Easter cakes in church, eggs and Easter for consecration without which the Easter cake remains simply rich bread, and egg -- will lose the symbolical value. By the way, many people on ignorance name the baked Easter cakes which are on sale on the eve of a holiday in many shops -- Easter. Not to get to awkward position it is necessary to know that Easter is a dish from cottage cheese with every possible additives. It unlike Easter cakes is not baked.


Divine service in a temple begins with canon and religious procession reading. In churches time has begun divine services can be various. In the main temple of Volgograd the Kazan cathedral canon reading begins, approximately at 23.15 -- 23.30. The people coming in the night from Saturday to Sunday in a temple on Easter divine service, become witnesses of the sacred action not similar on any others. Before its beginning in temples all fixtures are lighted, believing stand with candles, and there is no more brightly and more joyfully a service, than in night of Revival of Jesus Christ.


In days of old solemn Divine service was made in the presence of the tsar who upon termination of a ceremony did not shun with boyars and court. it is accepted not only in day of Easter, but also the next days. Meeting people should kiss and exchange by all means red. Before it it is necessary to say: «Christ Voskresi!». Or to answer: «Truly Voskresi!». After all Easter is a holiday of Revival of the Christ. Such greetings people announce a victory of a life eternal over death. Under the legend Maria Magdalina has presented the first Easter egg to the Roman emperor Tiberiju. It has come to Rome with a great joyful message about Revival of the Christ. Maria was poor and, without having anything, except the belief, joyfully having exclaimed: «Christ Voskresi!», has presented to the emperor a usual egg. was sceptical about words of the woman, having doubted that someone can revive from the dead.« Also it is difficult to believe in it, as that this egg can become red! »- the emperor has told and has not believed to the eyes: egg in his hands wonderfully became scarlet. Since then traditional red Easter eggs symbolise blood of the Christ and are the Revival symbol. For children Easter eggs a wonderful entertainment and an occasion to play pranks. Games on разбивание eggs and their driving carry away all children, looking on which adults rejoice.


The pleasure distinguishes Easter from all other holidays. Not that pleasure that that pleasure is received from fair quantity of strong drinks in a New Year's eve, not that comes with reception of expensively gift at date of enamoured, and pleasure of that a life is fine that it does not come to an end that it proceeds eternally. Easter -- a life holiday! A holiday when «the soul Russian as though is dissolved and softened in warm beams of Christ's love», reviving for good deeds and light thoughts.